Track Day at H2R

Friday, March 30th, 2012


We have booked Harris Hill Road on the last Friday in March for Texas Cobra Club,
and their guests from Corinthian Vintage, Vintage RL, and beyond to benefit the
wounded warriors of Operation Comfort.

The track day is sponsored as a small part of Texas Cobra Club's Spring Meet festivities, held annually
in Central Texas... Cobra, Vintage (and not so Vintage) attendees over the past two years have enjoyed
Harris Hill Road as a small, "grass-roots organized" driving event. Participants of the event have made
use of the small and technical road racing course for preseason league test-and-tune, or shake down
before BBORR, or to re-whet their driving skills following winter doldrums.

Located on the outskirts of San Marcos, Texas, Harris Hill Road offers a 1.8 mile, 11-turn asphalt road
course, with over 150 feet of elevation changes throughout. We will have the track for the afternoon,
and participants will enjoy multi-session facility use with a leisurely start time.

The day will loosely shape up as follows:
- Mandatory Drivers Meeting Will Kick Off The Day
- Routine Tech Check Covering Safety Equipment And Driveability Will Follow
- Lunch on site
- 4+ Sessions per group (20-25 minutes)
- Grid Goes Cold At 6:00pm Sharp
- Reminder, There is no gas on site

What are folks saying about Texas Cobra Club Track Day at H2R?

"...HH is a great place to learn...track is technical and safe... we are in." - Roy A.
"...I need a track day to wring out the new IRS. Will use the parking lot at Embassy if necessary." - Sam W.
"...I'm in..." - Gary T.
"...Tom logged 525 miles to be exact." (!!) "Count me in. I guess I can find some quiet mufflers." - Gene H.
"...I'm in for track day. I never get enough." - Jack H.
"...I am definitely in." - Kevin O.
"...We need to make this happen !" - Steve S.
"...Friday = Sponsor Shopping and Driver Test & Tune Track Day & Bragging Party" - Larry R.
"...I'm in." - Jeff G.
"...My pref is to do the track day, I'm still in" - Shawn K.
"...I'd like to come and play too." - Charlie J.
"...How do I sign up?" - Kevin F.
"...I'm going to plan on coming..." - Mark M.
"...I would like to participate." - Andrew B.
"...You can put me down for sure. We had a great time last year" - Danny N.
"...and its for a good cause." - John S.
"...I'm totally in and ready... $150 for the Spring Meet track time at Harris Hills is a deal!" - Joe S.
"...Standing by with $150 in hand... it is the most fun you can have with clothes on." - Bob B.
"...I remember Russell having a blast at the event last year. Count me in." - Scott W.
"...Count me in on the trackday." - Gregg H.
"...Really looking forward to it. Thanks for the opportunity" - Lance L.
"...Have visited H2R, but never run it. Thanks for the opportunity." - Bill B.
"...Thanks for extending an offer to join you." - Lloyd G.
"...Looking forward to driving a new track." - Tim M.
"...Getting ready for the season, so a chance to shakedown with you guys will be a blast...Again!" - David N.
"...Bringing the Factory Car... sounds like fun." - Steve S.
"...Where do I sign up?" - Jim W.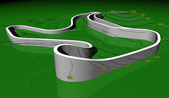 Download The
Trackday Flyer